We pride ourselves on being professional and responsible, and are driven to provide a quality experience. We are competitively priced based on the value of our equipment, staff and safety record. Your experience with us will include knowledgeable people who like their job and respect the importance of your travel experience. We are small enough to be attentive to details and personal with each customer, but big enough to have vast industry experience. Consider us the "boutique" bus company - you call us when it needs to be right.
Office Staff
Our office staff is here to help with all your transportation needs. Dedicated and knowledgable, feel free to reach out with any questions or concerns.
Technicians & Quality Control
Our technicians are some of the best in the business. We maintain our fleet with ASE Master Certified Technicians. When this program was instituted by ASE for the passenger transportation industry in Wisconsin, we had two of the original seven who became master certified. We do not employ technicians who are not Master Certified.
Our quality control staff are an integral part of our operations as they are tasked with maintaining only the highest standards of cleanliness and prepping all coaches before trips.
Doug Hogden
Maintenance Director
spencershop@burnetttransit.com
Trevor Robida
Technician
Josh VanDerLeest
Technician
Aaron Pokallus
Quality Control Director
Justin Halpin
Quality Control Assistant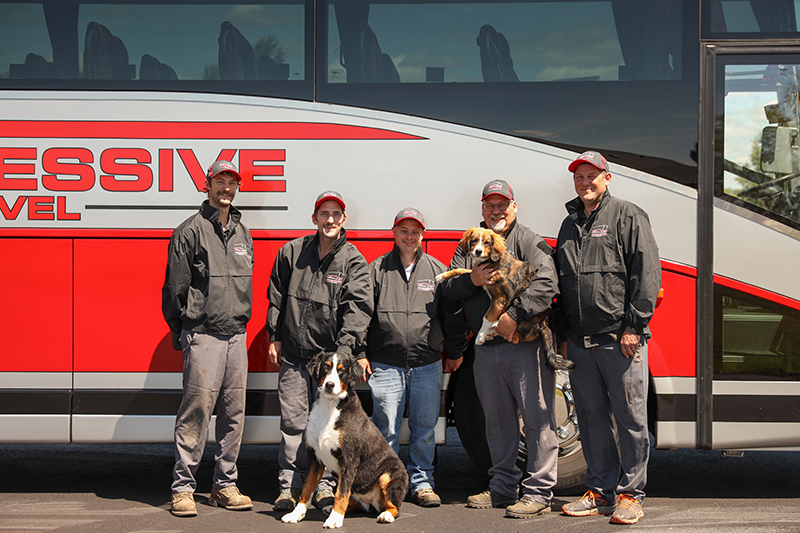 Photo standing left to right: Trevor Robida, Aaron Pokallus, Lucy (team mascot), Justin Halpin, Doug Hogden, Annie (team mascot), and Josh VanDerLeest
Motor Coach Operator
To make a motor coach trip a success, you need to have the right motor coach operator. We spend a significant amount of time making sure the motor coach operators we choose have the right personality. Extra attention is given when screening, training and educating our motor coach operators. We are proud to say we have never had an accident which has resulted in injury or death to a motor coach operator or a passenger since our inception in 1989.
Click here if you are interested in becoming a motor coach operator for Progressive Travel.